While many claim to be experts in the industry, CG artists can now challenge their artistic eye through gameplay. TurboSquid, the world's leading source of quality 3D models, has done just that with 3D Expert, a game for rating 3D model quality. In the game, which has been described as "highly addictive" by beta players, you quickly flip through 3D models and rate them on a scale of 1 to 10, winning points for both accuracy and speed. There being over 250,000 models in the TurboSquid catalog, players never have to rate the same model twice.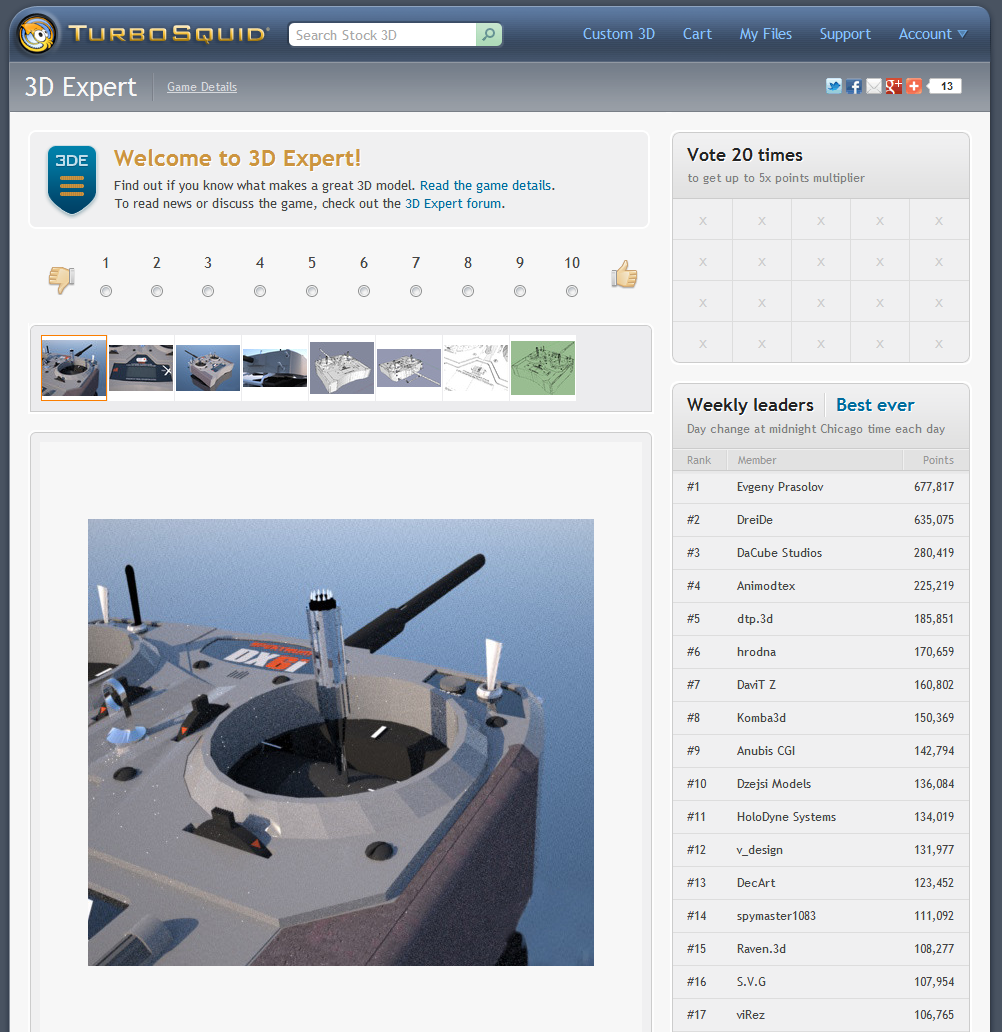 Here's how the game works:
A 3D model's thumbnails are shown to the player, who then rates the quality of the model itself on a scale from 1 to 10.
The game immediately compares the player's rating with the average of other players' ratings for the same model. Points are awarded for accuracy.
After the player has made 20 ratings, any points earned are multiplied so long as the player takes less than 3 minutes to rate the model.
A leader board shows players how they rank against their peers, providing details on number of ratings and the percentage of accuracy for each player in the game. Additional boards provide all-time and accuracy statistics.
While it's all fun and games for the players, the game does have a higher purpose for the data collected: TurboSquid plans to push the highest-rated models to the top of Search results, giving customers a better search experience. The development of 3D Expert coupled with the implementation of the CG industry's first 3D modeling standard, CheckMate, in August of 2011, are all part of  our quest for an industry-wide shift that values quality over quantity.
Although there is a clear purpose for the game, artists worldwide are spending a significant amount of time just playing. In the first 5 days of the game's launch, the top 20 players made more than 16,000 ratings. Artists from the Ukraine to the U.S., Egypt to China, are spending an average of 55 minutes per session to secure their spot at the top of the leader board. The most dedicated players appear to be from Germany, with sessions of play lasting up to 5 hours. At last count, over 250,000 ratings have been recorded by 1,200+ players, a number that is climbing daily.
Check out a few of the products that have been ranked the highest by the players of 3d Expert:
Plans are already in the works to expand the game to include badges for players meeting milestones, additional model elements to rate, and more! During all of this, we will continue to assess the information to give customers a more accurate and unbiased model rating system, while we all have a little fun.